MEET US TO LEARN MORE
We have opportunities for interested volunteers to connect with us and learn more about our mentoring programs.
OPPORTUNITIES TO MEET US
We offer a variety of opportunities for you to learn about becoming a volunteer mentor first-hand.
- Sign up for a Virtual Recruitment event. See below for more information and a link to register!
- Meet with a staff member for a virtual coffee meeting.
- Attend a Mix@Six or Mix in the Morning to meet current mentors and hear about their volunteer experiences. We will be relaunching our in-person events later this summer keeping safety in mind with outdoor events.
Sign up for one today!
Virtual Recruitment Events
Did you know a little time can make a BIG difference in the life of a youth?
There are hundreds of youth on our wait list that could use a mentor just like YOU.
Join us for one of our virtual events and learn what it means to be a Big, how to apply, and be entered to win an Amazon Gift Card! 
What:  Virtual Information Sessions
Where: Zoom
When:  Choose one of the following...
Monday, June 14 | 12:00pm - 12:30pm
Wednesday, June 23 | 5:30pm - 6:00pm
Wednesday, June 30 | 9:30am - 10:00am
Wednesday, July 7 | 12:00pm - 12:30pm
Thursday, July 16 | 9:30am - 10:00am
Tuesday, July 20 | 5:30pm - 6:00pm
Wednesday, July 28 | 11:30am - 12:00pm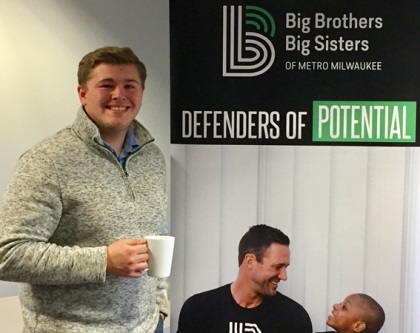 Our Mix@Six and Mix in the Mornings are great opportunities for prospective volunteers to meet current mentors and hear first-hand about their experiences. Big Brothers Big Sisters staff will discuss the specifics of our three mentoring opportunities and answer your questions. Socials are held at fun venues around Milwaukee and Waukesha, and are typically free. We encourage you to bring an adult guest(s) along too.
June Mix@Six - Tuesday, June 22 at 6:0opm: Join us at an outdoor beer garden at The Landing at Hoyt Park and enjoy raffles, networking, complimentary pizza, and hear first-hand experiences from current mentors. Click here to learn more and to register! 
July Mix in the Morning - Sunday, July 18 at 9:30am: Join us for coffee and pastries on the patio at the Friendship Cafe & Bakery in Fox Point. Check back soon for a link to learn more and register!
July Mix@Six - Join BBBS for a night at the ball park! We'll have a 50/50 raffle and other events during the game. This is a chance to safely meet other Bigs/Mentors outdoors or learn how you can get involved with us. See below for link to purchase tickets. Contact Kelly Klus at 414-831-4561 or click here to email Kelly with any questions.
Milwaukee Milkmen vs. Sioux Falls Canaries - Franklin Field 7035 S. Ballpark Dr. 
Thursday, July 29 at 6:35pm
A portion of the ticket sales for this game will directly support BBBS. Purchase your tickets today at https://fevo.me/bbbs