The Big Gala: A Celebration of Mentoring
You're invited to a party to celebrate the power of mentoring.
Saturday, November 4, 2017 
(Save the date:  Saturday, November 3, 2018!)
 What a night!  Thank you to all our sponsors and guests for making
Big Brothers Big Sisters' 2017 Gala a BIG Success!
The future is under construction throughout Milwaukee, and its success depends on what we do today.  For over 40 years, Big Brothers Big Sisters has been providing one-to-one mentoring to youth facing adversity--building community and providing children with role models who inspire them to close the door to negative influences, rise up to their greatest potential, and reach their dreams.
Together we are building minds, building dreams, and building futures for the children we serve!
For more information about the Big Gala, contact Nancy Bong, Special Events Coordinator, at (414) 831-4580 or email Nancy.
 Congratulations to our 2017 Honorees: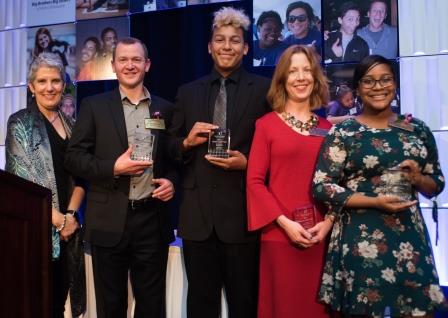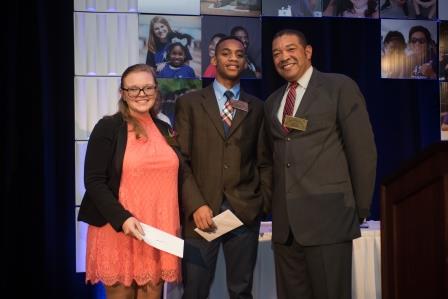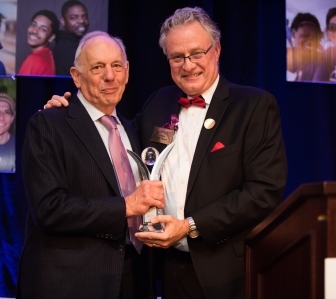 Top Left:  BBBS President & CEO Amy Chionchio with Matches of the Year Drew & Kamerin and Margaret & Bethany.  Top Right:  Martin F. Stein Memorial Scholarship winners Anna and Londan with BBBS Board Member Darrell Thomas.  Bottom:  Martin F. Stein Champion for Children Joel Lee with Past BBBS Board Member Bill Reitman.
2017 Premium Sponsor
Tamarack Petroleum Company, Inc.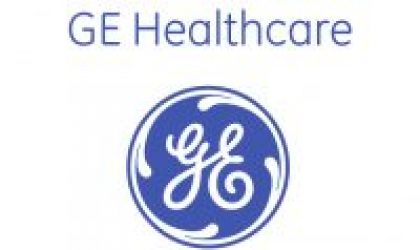 2017 Event Sponsors:
Alpha Source
Children's Hospital of Wisconsin
The Cudahy Foundation
Day & Zimmermann
Foley & Lardner LLP
Generac Power Systems, Inc.
HSBC Bank, USA
John & Kathleen Miller
Northwestern Mutual Foundation
Quarles & Brady LLP
Rockwell Automation
Wells Fargo Bank, N.A. - Chicago
Mary Pat & Nick Zarcone
2017 Table Sponsors:
GE Capital Healthcare Equipment Finance
American Transmission Company, LLC
Baker Tilly
Bank of America Merrill Lynch
Briggs & Stratton Corporation
Citizens Bank, N.A.
Colectivo Coffee Roasters
Cramer-Krasselt
Credit Suisse
Deloitte
Edgerton Construction, Inc.
Ernst & Young, LLP
Francis Investment Counsel, LLC
Godfrey & Kahn, S.C.
Harley-Davidson Motor Company
Johnson Controls
Arlene & Joel Lee
Marcus Hotels & Resorts
MATCO Distributors, Inc.
MGIC Investment Corp.
MUFG Wholesale Banking
PNC
PricewaterhouseCoopers
Guy & Nancy Smith
SunTrust Robinson Humphrey
U.S. Bank
Valdes Engineering Company
Wells Fargo Commercial Banking